The supplier invoice automation solution integrated into Infor M3
---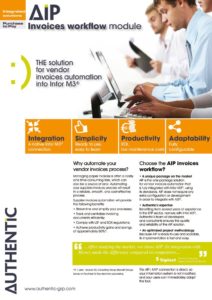 AUTHENTIC has developed AIP for complete integration of your automated invoices into INFOR M3.
Why use AIP?
INTEGRATION/SIMPLICITY/PRODUCTIVITY/ ADAPTABILITY
The only packaged offering of its kind on the market
AIP is the only packaged supplier invoice automation solution that is fully integrated into INFOR M3® and uses its standards. AIP requires no additional configuration or development before being integrated into your M3 ERP.
AIP's out-of-the-box, upgradeable features make it quick and easy to implement. Connection between AIP and Infor M3® is direct, meaning that your IS remains unchanged and your users can get to grips with the tool immediately.
Main features
• Invoices posted on receipt and automatically integrated into the INFOR M3® FAM (Finance) module
• Posted invoice processing workflow
• Management of "approved for payment" vouchers
• Management of disputes
• Management of multiple VAT rates
• Management of factoring
• Supplier invoice approval workflow
• Processing and reconciliation of invoices with or without Purchase Order
• Consistency checks on imported invoices with email alert (supplier status, due date, duplicate, purchase order existence and status, VAT code, etc.)
• Posting of entries, viewing of electronic invoices
• Error reporting by supplier, invoice type, period, etc.